Introducing TOSS IT UP Party Game, the Newest Party Game sweeping the outdoor party scene. A Must have for your tailgating parties, BBQ'S , Family Reunions, Camping, Nascar parties,or anyplace where there is a party gathering . Loads of Fun , this game is a game of skill and chance that will keep you & your friends and family entertained for hours. If you want your next party to be a BIG hit order your TOSS IT UP Today !!!
I actually invented this game :)

Drunk Level : Definitely shitfaced especially if you keep losing and have to keep playing :)

If You like playing cornhole and drinking, You're gonna love Toss It Up


Introducing TOSS IT UP Party Game, the Newest Party Game sweeping the outdoor party scene. A Must have for your tailgating parties, BBQ'S , Family Reunions, Camping, Nascar parties,or anyplace where there is a party gathering . Loads of Fun , this game is a game of skill and chance that will keep you & your friends and family entertained for hours. If you want your next party to be a BIG hit order your TOSS IT UP Today !!!

The game board 2 FEET WIDE BY 3 FEET LONG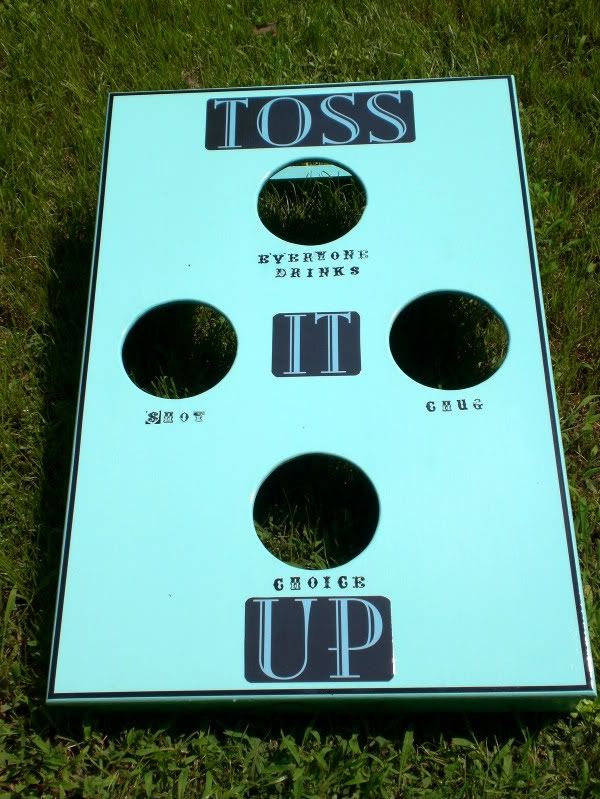 Board Sizes
Yard /Outdoor board is 2 feet wide by 3 feet long with 6 inch by 6 inch bags filled with approx 1 pound of field corn .

Travel/ bar size is approx 6 inches wide by 12 inches long with 8 1 inch by 1 inch bags filled with plastic beads (or use quarters )
The basic rules are very simple,

FULL SIZE 2'X3' OUTDOOR/YARD RULES

SETTING UP THE BOARD
1) Place board on level surface
2) walk back 21 feet or seven strides and establish a foul line, It helps to have a nice stable table to hold your beverages near the foul line
.
PLAYING THE GAME
1) Players take turns throwing their 6" x 6" bags filled with corn , They will keep score and play to 11. First player to 11 wins and gets the choice of whether to stay and play or make their losing opponent stay on and play their way out .

Each player gets 2 bags to throw. The outdoor/yard game will be available with 4 bags ( 2 of each color) or 8 bags for more players or without bags if you happen to already have cornhole bags you can use.


2) Should the player land in one of the holes, they must follow the instructions printed under each hole ...and score points accordingly.

a)CHOICE---- player has a choice on who they wish to drink, one player , the opposing player, or anyone they wish .Players landing in this hole get 1 point.

b)CHUG------- Opposing Player must chug his beverage . 0 points for landing in this hole

c)SHOT------- Opposing Player must take a shot of their desired beverage. 0 points for landing in this hole

d)EVERYONE DRINKS----- Everyone must take a drink of their favorite beverage , that includes everyone, playing or not
, if your watchin' your playing !!! 1 point for landing in this hole .

3) To keep players honest, should they miss the board with both tosses , they must drink.

4) Any bag landing on the board without falling into a hole is considered "safe" and they do not need to drink anything. This is much harder than it sounds like
0 points for landing in the safe zone

5) First player to 11 wins and decides the fate of their opponent , making them stay and play again or letting them off the hook and choosing another opponent ...

For Team Play , I recommend you use 2 boards and players throw 4 bags each, play is exactly the same as singles except the game is played to 21 instead of 11.

BOARD WITH BAGS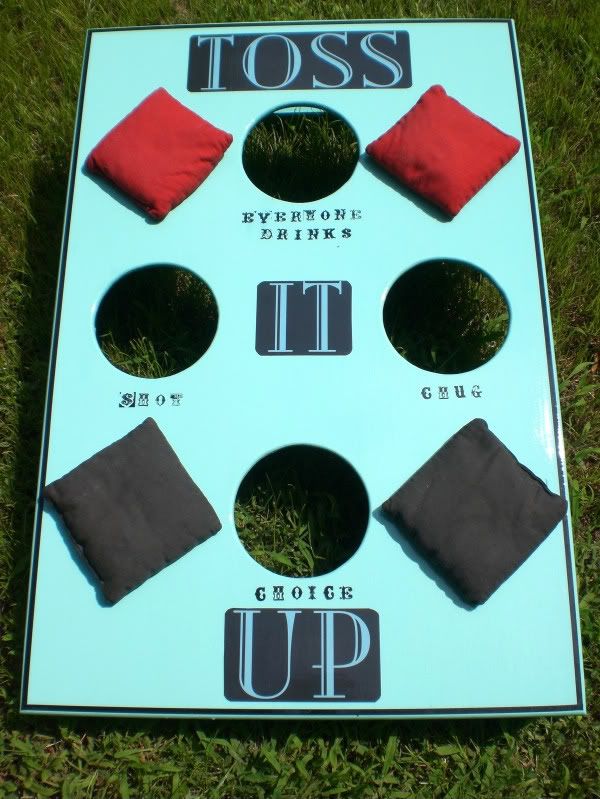 1)The bar/travel size board (6 inch x 12 inch ) is played the same way except it will use 1 inch x 1 inch bags full of beads . or just use quarters


2) Place the board on a table or bar and establish a foul line generally around 3 feet

3) players take turns and play the game exactly the same as the outdoor/yard version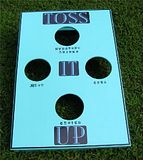 Check out our other products on the main page :

http://tossitupp.proboards.com/index.cgi


I only use top quality plywood and select 1x4 lumber to make the boards. I use a router and take the edge off the boards and holes making them "bag friendly" saving wear and tear on your bags. I then use 3 coats of paint over the entire board . I fasten the top and base with finish screws and putty all the holes. I then add the decals and lettering and use a weather resistant non yellowing polyacrylic to coat the boards. The underside and base get 3 coats and the top playing surface gets 10 yes 10 coats of polyacrylic. I make hideaway legs for the game and use zinc coated nuts and bolts for them. I have been a carpenter for nearly 30 years so they are built sturdy and you will enjoy them for years to come. I stand behind my work and if there is a problem I will take care of it for you.


Fold up & down legs :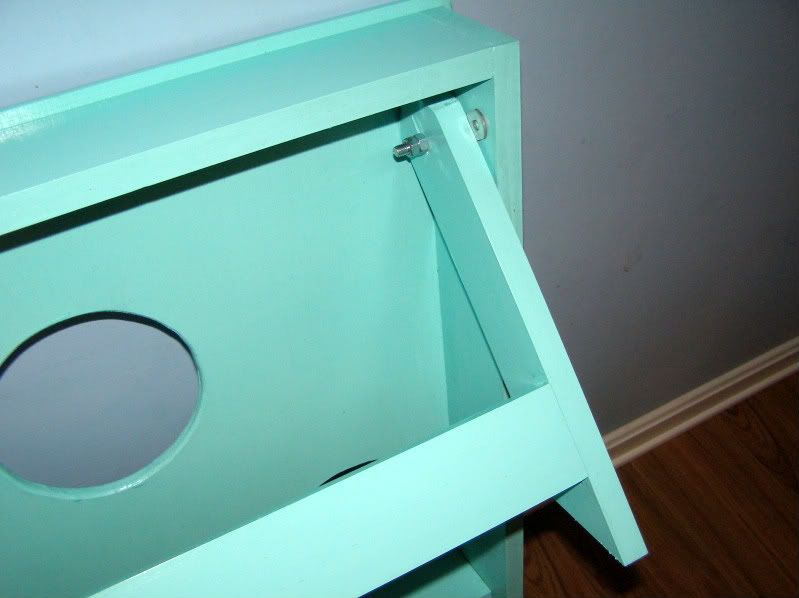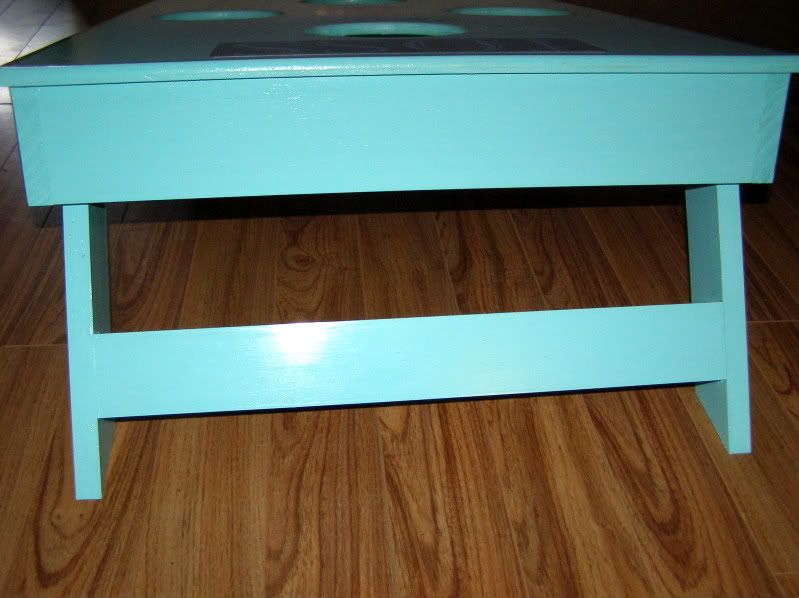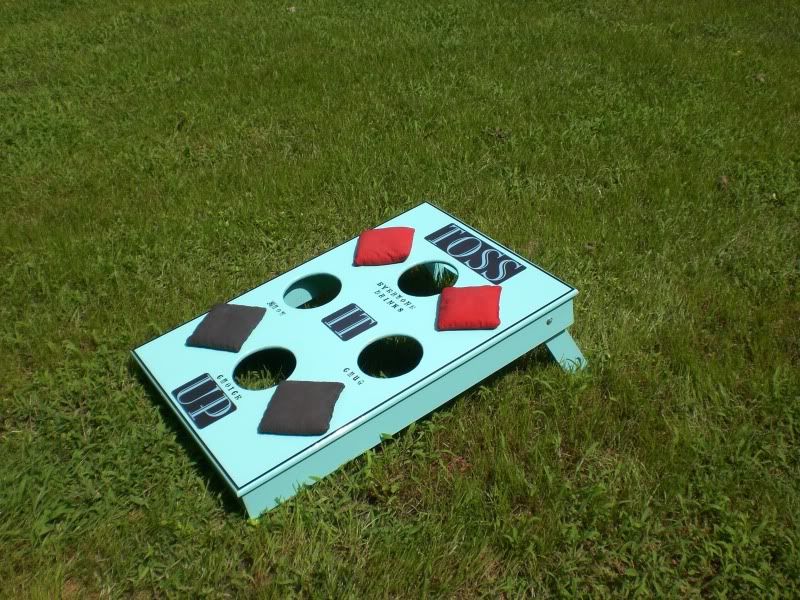 The bags are made of duckcloth /canvas and are very durable . They are all filled with 1 pound of field corn which creates dust and creates slide
.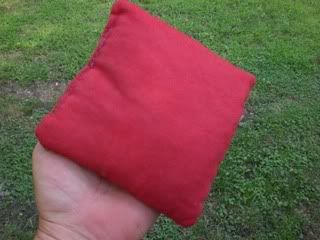 Check out our other products on the main page :

http://tossitupp.proboards.com/index.cgi

****


****Please allow 2 weeks plus shipping time , these are all handmade boards and take some time to make. I will try and get it out to you as soon as possible . I will email you when ordered with an approximate shipping date , Thanks for your patience ****[/color[color=Red]]***All games sold on this site are intended for the sole purpose of adults coming to together, having fun and enjoying each other's company. We are not promoting drinking of alcoholic beverages. If any person playing these games decides to drink alcoholic beverages, we hope that those who make that choice, drink in moderation and do not operate a motor vehicle.

These games are intended for adults over the age of 18, and for entertainment purposes only. You are responsible for your actions and decisions: think wisely and cautiously. We advise you to substitute all alcohol involved in any game with non-alcoholic beverages, and we strongly encourage using designated drivers and strongly discourage underage drinking, driving under the influence of alcohol and alcohol abuse.
I am not responsible for anyone abusing beverages while playing this game, please drink responsibly *****